Red signs are popping up all over Berks County. It's easy to figure out they belong to Christian Leinbach. He's using them to attack the tax increase the current Board of Commissioners passed three years ago to balance the budget. It's very interesting to see a Republican attacking a tax increase which was caused by Republican mismanagement and malfeasance. I wonder if he's planning on telling voters the real story behind that increase or just plans on demagoguing it.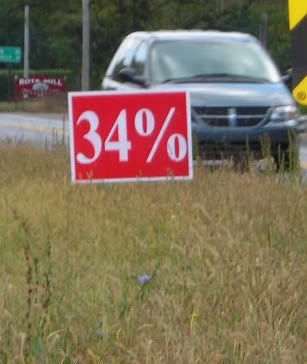 OK, we all know the answer to that question, the signs tell us that. So why was that 34% tax increase necessary?
The first reason was because the previous Board, with a majority of Republicans (Mark Scott and Tim Reiver), used smoke and mirror accounting. See, when a calendar year ends and a new one begins, you're supposed to take the previous year's ending balance and carry it over to the new. In other words, when January 1, 2004 rolled around they should have taken the balance from December 31, 2003 as the balance forward. They took it from December 31, 2002 instead in order to hide a serious deficit.
The Republican couldn't run the County on the required balanced budget so they doctored the numbers. The new Board was stuck with their mismanagement and had to rectify the books and that required a tax increase.
The other major contributor to the tax increase was a 17% rise in health insurance costs for the County. Everyone understands the runaway inflation in medical care and insurance and it hit the County hard that year. Commissioners have little or no influence over premiums charged by insurance companies and had to raise taxes to cover this obligation. Following this experience the current Board rectified a major part of this issue by self insuring health care costs and eliminating the chance such a problem will hit taxpayers again. They actually took the bull by the hors and solved the problem. I call that good management.
Christian Leinbach spent the primary season lying to voters, saying the current Board had raised taxes when it hadn't and saying they'd raised their own salaries when they hadn't. He can't be trusted to know what he's talking about and that hasn't changed.
Now he's promising he'll reduce crime without raising taxes at all. Can't be done Christian. As the mortgage meltdown continues affecting the stock market (it usually takes 6-12 months) the County may again be hit with another major contribution to the pension fund (that was the other major hit that year). These are required by law because the County must fund their legally contracted obligations. If Leinbach refuses to raise taxes to cover such a major expense where will he get that money?
The only alternative is to raid the programs funded by property taxes: the judiciary and public safety. These two areas consume most of your local taxes. Half of all County services are funded by state and federal grants so he can't touch them. He has to cut the detectives, prosecutors, court staff or sheriff's. Things like the probation officers, detention facilities (how many prisoners is he willing to release to balance the budget?) and similar areas are where he will have to cut costs.
How on earth can he promise to reduce crime if he has to let criminals out of prison or cut the number of prosecutors or probation officers? Leinbach's promises are empty platitudes designed to sound good to voters but are impossible to fulfill. Once again, it shows he doesn't know what he's talking about. The County budget is readily available at their website and anyone can see what programs are funded by tax dollars. A little homework would have been nice but then he wouldn't have had a political platform to use for his ugly yard sings would he?