The last County Committee meeting witnessed a vote of confidence for our Treasurer Boyd Winegardner. John Ryan presented the motion. Let's take a look at some of the fine work done in the past by our Treasurer. These are two consecutive Treasurer reports submitted and approved with no debate or discussion regarding their contents. I was astonished when the first one was approved. Not being a Committee member at the time I had no standing to question this abomination.
Let's review the prior meeting, held on February 17, 2006. Bill Evans resigned as County Chair at that meeting and Tom Herman succeeded him. Meetings are held every two months and only on the third Saturdays for some mysterious reason (there's nothing in the bylaws requiring this). Why did Boyd omit the entire period from February 18 through March 24 from his report? It covers all of about three weeks instead of eight or nine.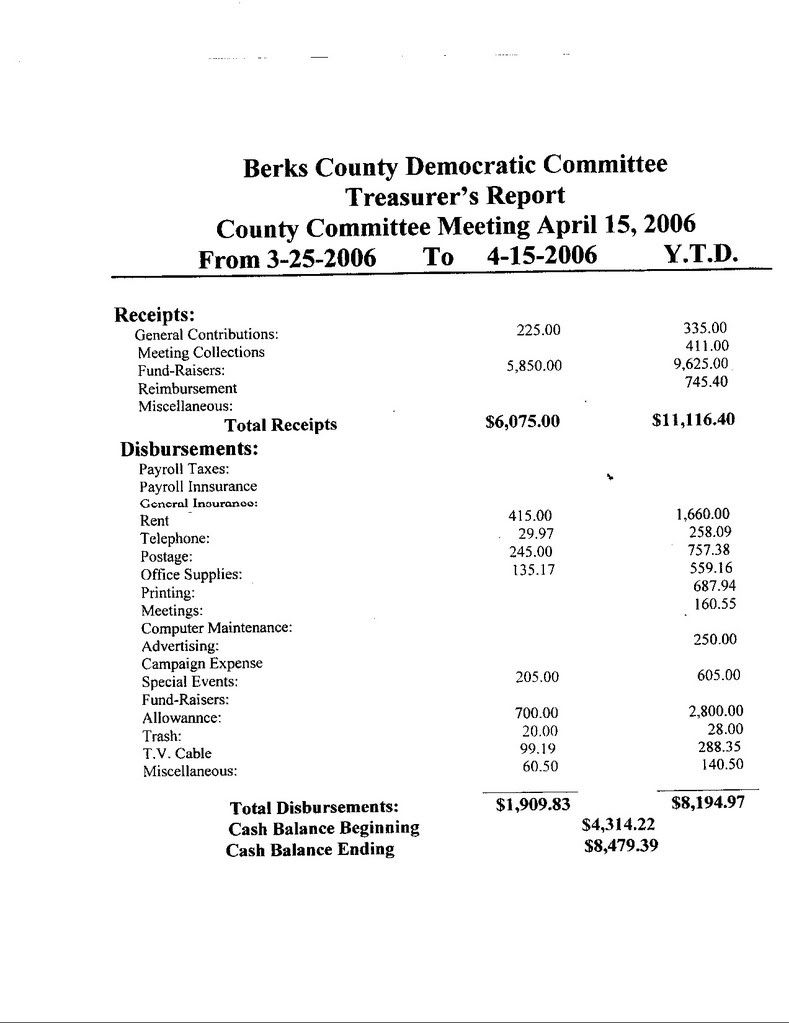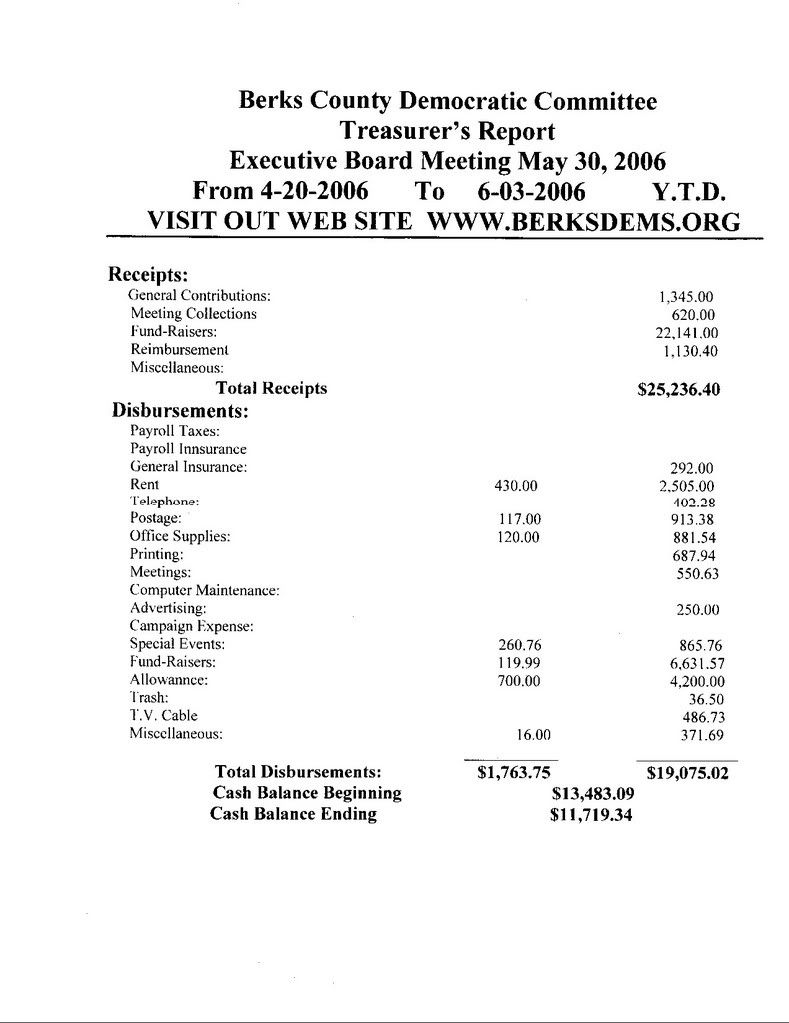 One reason was to hide his own income from the Committee. The fact we were paying him $700/month was some big secret and this was their way of hiding it in the financial report. He hid it in the line item called "allowance." If you compare consecutive reports, for example this one and the one below, you'll notice the year to date number jumps by $1,400 from one to the next. Boyd's reports were created to hide half that amount however. As such, his numbers didn't add up. He carried a $2800 "allowance" total from the April 15th report to the next one on June 3rd, and adds another $700 in his line item but comes up with a year to date total of $4200. Adding $700 to $2800 doesn't equal $4200. He conveniently neglected his other $700 payment.
Boyd did this routinely to hide the fact he's been bleeding funds from the Committee which could have been used for winning elections. We were paying him to work for the Committee. However he also used this time to conduct his duties as Treasurer for numerous other clubs and organizations and for various campaigns. Under the law all income we paid him for that time should have reported as in kind contributions to those groups and campaigns. They weren't and, as such, we violated the law.
This doesn't even begin to address the issues of workman's compensation, unemployment insurance, etc. He doesn't qualify as an independent contractor under IRS rules. If he got hurt at the office and sued the Committee we'd all be liable for his medical bills and disability. For this we handed him a vote of confidence for his work as Treasurer.