I've met Christine Donohue at the State Committee meetings and at several political events during the year. She is a highly regarded (named in 'Best Lawyers in America') trial lawyer with 27 years experience. She has served as a Judge on the Pennsylvania Court of Judicial Discipline (1993-1996), the Disciplinary Board of the Pennsylvania Supreme Court (1997-2003), and is highly recommended by the Pennsylvania Bar Association for Superior Court. Their words about Ms. Donohue: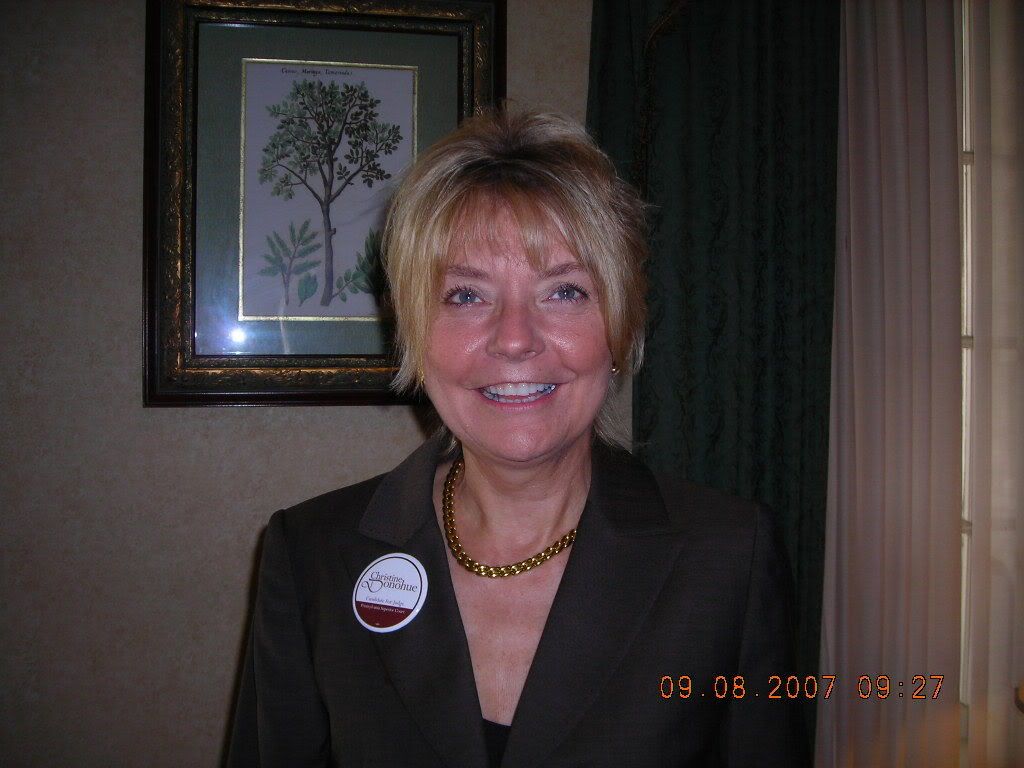 The Candidate has distinguished herself as a practicing attorney with extensive civil trial and appellate court experience. She demonstrates a wealth of knowledge about the Superior Court and has served in a quasi-judicial role on the Disciplinary Board of the Pennsylvania Supreme Court and the Pennsylvania Court of Judicial Discipline. The Candidate has been active in many professional organizations, notably the Pennsylvania Board of Law Examiners from 1990 to 1996, serving as its chair for two years. She also has extensive community involvement and has taught both professional and lay audiences. Her colleagues describe her as intelligent, conscientious and objective and credit her with having outstanding character. Her legal writings are well-reasoned, well-organized and demonstrate the legal ability to serve with distinction on the Superior Court. She is highly recommended by the Commission."
Christine grew up in Coaldale and was raised in Lansford, Pennsylvania. She graduated from East Stroudsburg University where she was listed in 'Who's Who Among Students in American Colleges & Universities.' From there she attended Duquesne University School of Law and has practiced in Pittsburgh her entire career. She currently practices trial law at Buchanan Ingersoll & Rooney PC.
Donohue lives in the Shadyside area of Pittsburgh with her dog Wendell and is active in her community. She has served the Turtle Creek Valley Mental Health/Mental Retardation Association as Assistant Solicitor and Board member, The Hill House Association (Board member), Make-A-Wish Foundation of S.W. Pennsylvania (Board member), and The National Aviary of Pittsburgh. She also serves as a Democratic Committee woman.
She has been endorsed by the AFL-CIO, the Allegheny Labor Council, Outfront, The Allentown Morning Call, the Americans for Democratic Action, Gertrude Stein Political Club of Greater Pittsburgh, Liberty City Democrats, Pennsylvania NOW Political Action Committee, Pittsburgh Firefighters, PSEA-PACE, the Steel City Stonewall Democrats, and the United Mine Workers among others.
I also endorse Christine Donohue for Judge of Superior Court and encourage everyone to volunteer, contribute and vote for Christine Donohue.