Service Employees International Union Healthcare brought their grassroots caravan through the area yesterday protesting The Carlyle Group's pending takeover of HCR Manor Care nursing homes. Manor Care has 46 facilities in Pennsylvania with 7,308 beds. Already criticized for violating standards, including not enough staff, the private equity takeover will likely result in more staff cuts and less care fore residents of these homes.
HCR Manor Care has been cited for 943 violations of federal health standard regulations already. Not one of their 46 homes in Pennsylvania were in compliance of standards with violations that caused or had the potential to cause harm to residents. We aren't talking about inconsequential problems, but things like food preparation, failure to provide care, prevention of infections, and other critical issues.
Other HCR Manor Care facilities have been cited for poor management and care including the failure to provide dental care to the extent one resident had all their teeth removed due to infection. Another sat in their own feces filled adult diaper for five years before calling the police and reporting elder abuse. Another hadn't been bathed in a month, others left to fall out of their wheelchairs, and one in Michigan who couldn't speak was found with ants crawling over her face.
Is this the standard of care you want in your final years or for your loved ones? If Carlyle buys this outfit these conditions will worsen. Their history and that of other private equity firms buying nursing homes has been that they lay off staff people to fund the debt they took on from these buyouts.
This deal is costing $6.3 billion, 87% of which will be debt. Burdening Manor Care with such massive debt will cause more and more such problems and neglect of residents. Manor Care executives stand to earn over $250 million from the deal. CEO Paul Ormond alone will make $186 million from Carlyle's deal.
The state must step up and insure that our elders are not mistreated and neglected due to this deal. Carlyle must be forced to provide the care and treatment standards require with appropriate staffing levels. The government recommends staffing at a level equivalent to 4.1 hours per day per patient. HCR Manor Care currently has 3.31 hours per day, 19% below the standard. No wonder there is neglect and abuse.
What can you do? Contact your Members of Congress along with our Senators and demand accountability. The debt load on this deal is unhealthy. It's unhealthy for Manor Care, for their employees, and, especially, their residents.
Here are some pictures from SEIU's event yesterday calling attention to these issues:
The march coming up the street: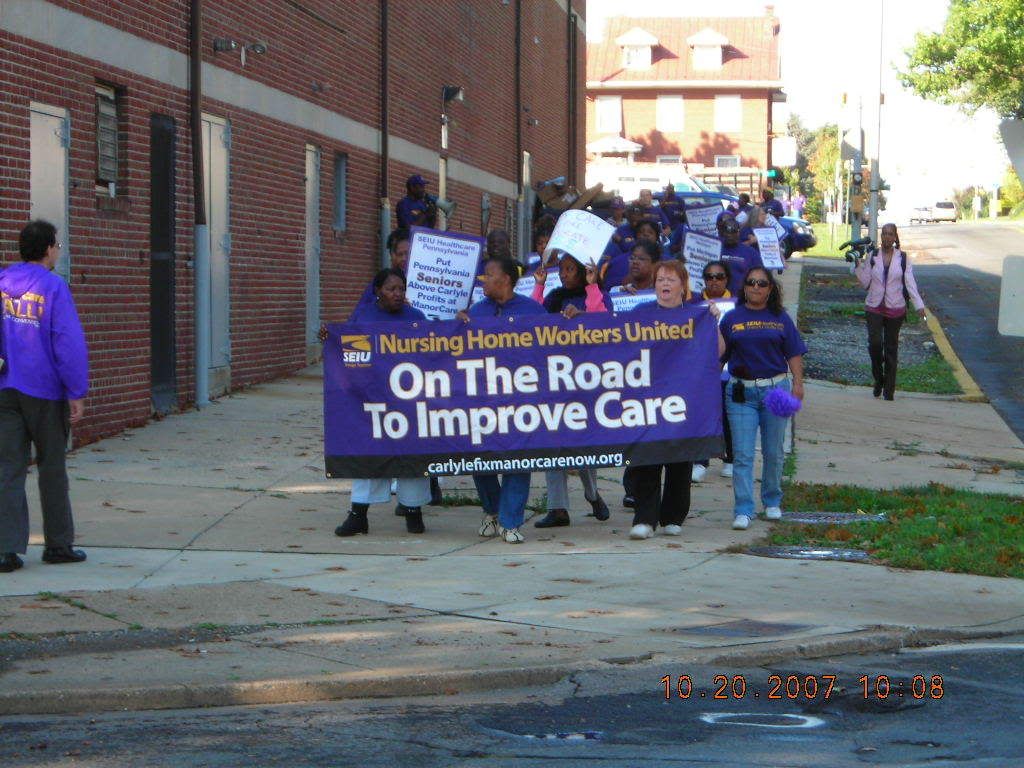 A marcher from Michigan: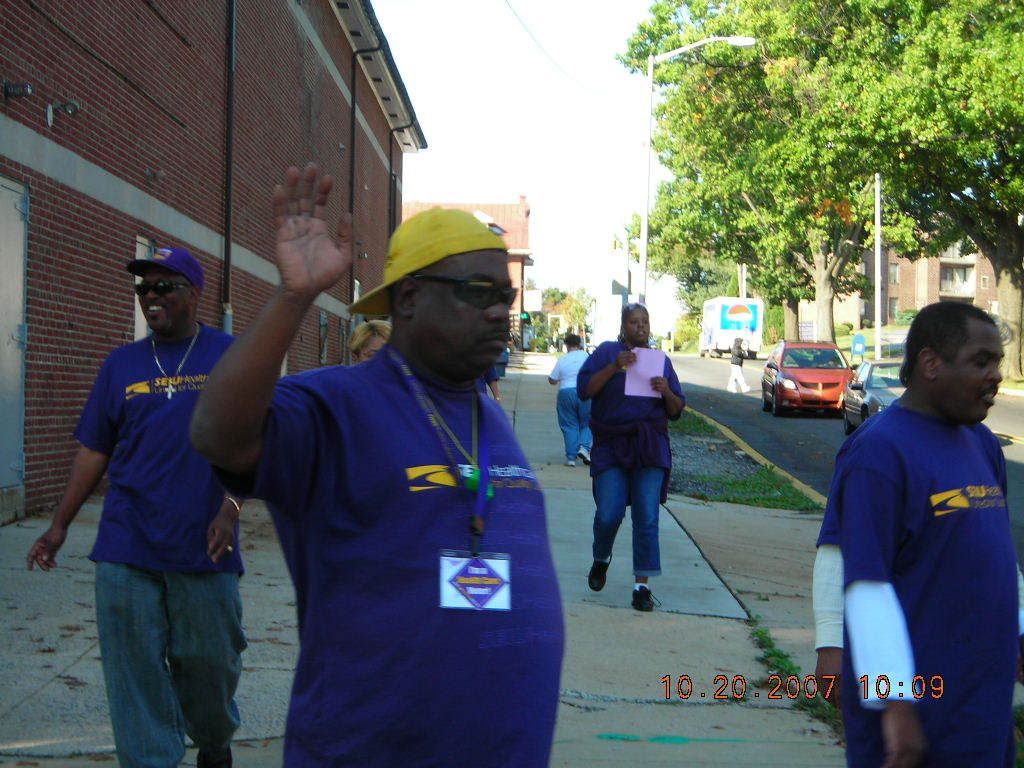 Posing in front of Manor Care: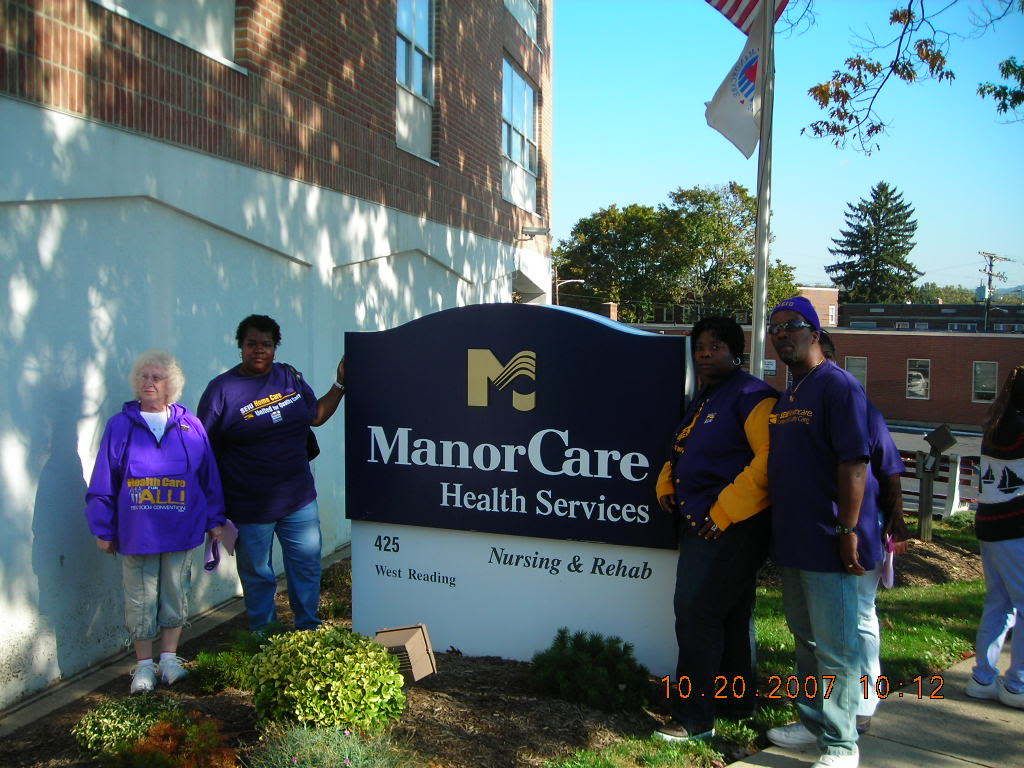 Management's belligerent reaction: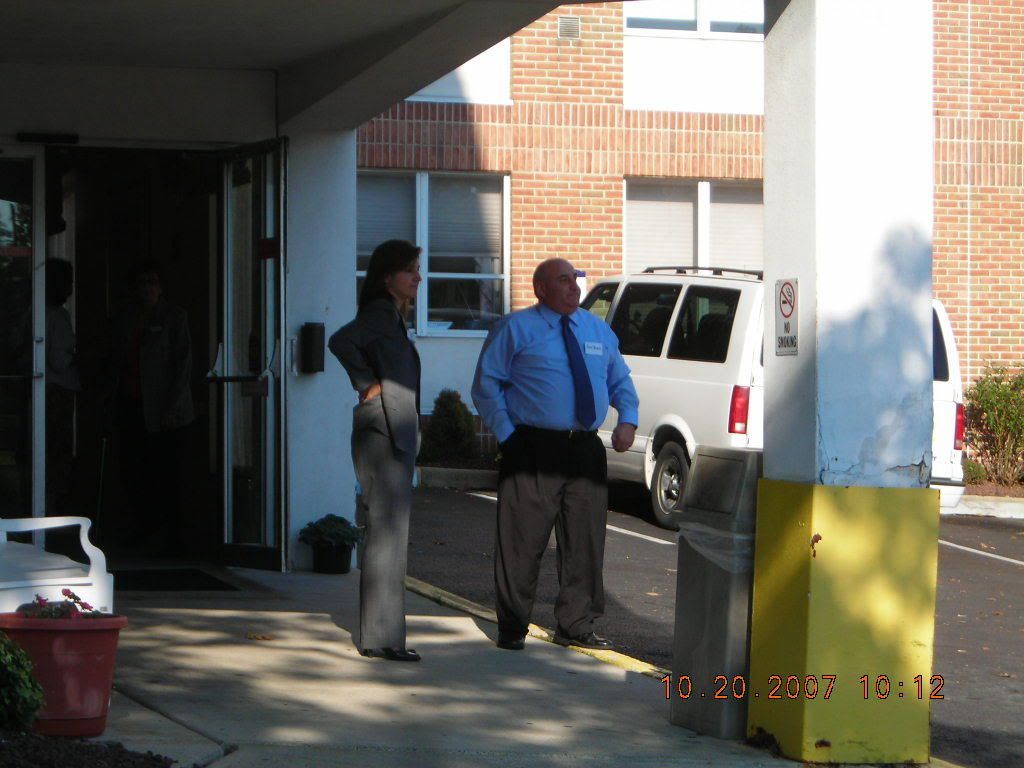 The rally: